Signature recipe of Oregano & Feta Cheese Spaetzle (German Dumpling)

One of Germany's most popular and beloved foods, we are going to make this traditional German dumpling or egg noodle from scratch. This is my signature recipe of the dumpling with oregano and feta cheese, and it's amazing!

Spaetzle is boiled in water then pan fried in butter or olive oil and served as a savory side dish with meat sauce.

You don't need a Spaetzle maker!

We're also going to make a main dish of melt in your mouth thin slices of beef cooked in a sweet and savory garlic soy sauce. Very strong in flavor!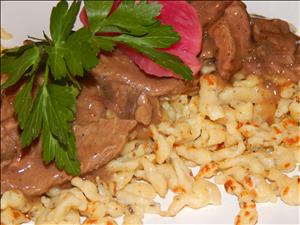 A side of sautéed vegetables in olive oil (Carrots, broccoli, onions, Mushrooms, and green, yellow and red bell peppers)

Vegetarian option available: we will drop off the meat in the sweet and savory garlic soy sauce and use it to cook the above mentioned vegetables instead!

Just let me know ahead of time when you sign up for this class

Also can be written as Spätzle or Spätzli:

http://en.wikipedia.org/wiki/Sp%C3%A4tzle